Sensodyne Deep Clean Toothbrush - EXTRA SOFT
Soft tapered bristles for interdental cleaning
38% better reach between the teeth (v. regular flat trim toothbrush)
4x better reach along the gumline (v. regular flat trim toothbrush)
Sensodyne has designed and formulated an entire range of toothbrushes as well as toothpastes to accommodate different needs.
Cleaning effectively is important for people especially with sensitive teeth - to help prevent plaque build-up, while minimizing further wear and tear that can be caused by excessive brushing.
Sensodyne Deep Clean toothbrush is specially designed for gentle, yet thorough cleaning of teeth. This toothbrush has extra soft, silky bristles that provide effective cleaning of teeth, while being gentle on teeth and gums. The dense bristle base of the brush helps remove plaque effectively, while the micro-fine tapered filaments provide deep cleaning between the teeth (up to 38% better reach in between the teeth) and along the gumline (up to 4x better reach along the gumline) compared to a flat trim manual toothbrush.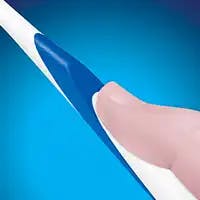 Combine Sensodyne Deep Clean Toothbrush with a Sensodyne Toothpaste
To care for your teeth, we recommend you brush twice daily with a fluoride toothpaste and rinse with a fluoride mouthwash, such as Sensodyne toothpaste using a Sensodyne toothbrush.
It is recommended that toothbrushes are replaced every 3 months.
Do not allow bristles or toothbrush to be chewed.
Children under 6 years should be supervised during brushing.
Carton made from recycled materials. Recyclable Carton, Cap & Tube.